What are the different parts of an electric roller shutter garage door?
Electric roller shutter doors look stylish and can enhance your home's kerb appeal, but have you ever wondered about how they work and how many different parts such a door need to keep your garage and car safe?
Here at Clic Garage Doors, we aim not only to offer the best customer service possible, we also make it really clear to customers as to the different parts an electric roller shutter door has, how they work together and how we can help keep them in working order.
Clic Garage doors are based in Bridlington, East Yorkshire and we have customers throughout the region who recommend our services.
Covering up!
The top box cover comes with your ordered garage door, and it is a full hood as standard. This complies with relevant laws and legislation and forms the perfect finish on the inside.
Disown those draughts
With our patented side guide sealing system, draughts are much reduced, and this system also makes the door quieter when activated.
Seal of approval
The bottom seal is made from rubber and helps prevent water ingress at the bottom of the door.
Lock, stock …
Deprat ™ locking assemblies together with integrated steel reinforcement gives excellent protection against someone trying to force open the door.
Keeping things tidy …
So Clic electric garage roller doors have a traditional locking system, yet there is an added anti-friction coating that helps reduce scuff marks on the inside door curtain.
Bottom Lath
Security again is enhanced with deep, extruded aluminium which helps prevent the door from being forced from the sides.
Optimum lath thickness
Measuring 77mm by 19mm, this offers one of the most insulated and rigid laths today.
Resistance is futile
A two-layer laquear coating adds up to a profile of between 25 to 30 microns, providing effective resistance to curtain scratches and marks.
Colour Palette
Our lath is manufactured from high grade aluminium and finishing in a PUR/PA coating which reduces abrasion, colour fading and surface cracking although some colours are not available in the 55mm compact lath.
The colours are industry standard RAL from white through to red, green, blue, brown, grey, silver, ivory and more.
There is also a range of painted wood effect and laminate colours.
Fitting most garages
Clic Garage Doors are designed to fit most garages and home setups. The choice of installation methods including the classic lath or compact lath, ensures that there is a size for every opening.
For homes needing security at its highest level, the Clic electric roller shutter doors have a secure neoprene lock system.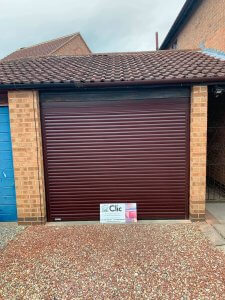 Who are Clic Garage Doors?
We are a family company that's been in business for five years.
Our excellent reputation is known through Yorkshire and Humberside.
What to do next
If your current garage door has seen better days and needs replacing, then get in touch today.