Clic Garage Doors in Bridlington, East Yorkshire offer the best electric roller garage doors in the area.
From start to finish, the customer service is second-to-none, our expertise is trusted and recommended throughout the area.
Having your garage door fitted is one thing and this technical job can be done with the minimum fuss and quickly as possible by the Clic team.
What other items are provided as standard?
Electric Roller Garage Doors are made from the finest, durable, and lightweight materials and have different slat sizes and different fits (compact and classic).
However, the door itself is just one aspect of the installation.
Each door has several mechanical elements that work in harmony to ensure your door opens time and again in a smooth manner.
Fixtures and fitting that come as standard including top box cover, draught protection, an effective rubber seal, an automatic locking system, an anti-scuff locking system, an extra strong bottom lath, and abrasion resistance.
There is the manual override so you can operate the door without power if there is a power cut or similar.
All our doors are provided with a manual hand winding mechanism.
What about some extras?
So, we have a number of accessories that we offer here at Clic Garage Doors.
How about letting some natural light into your garage's interior space, helping save on electricity? We can add vision slats to let in daylight, with or without glazing on our classic model only.
You can have a remote-control keypad, so you can operate your door securely without the remote control, which is provided as standard.
The keypad has no wires, is weatherproof and highly durable and you can use a secure code for additional peace of mind.
Then consider a battery back-up which allows you to use the remote control even when the power is off.
There is an external hand winding mechanism offered an as additional accessory which is particularly helpful if the garage is only accessed via the garage door itself, ie there is no internal access or door into the garage space itself.
Full box hoods are also available upon request.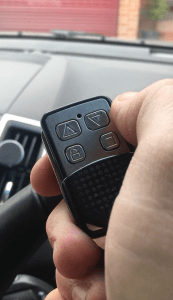 How much does an electric roller garage door cost?
While Clic garage doors has two main types of doors that can be fitted (compact and classic) the measuring part of the project is important and will affect the price.
What do I do next?
If you fed up with your garage door that looks tatty or simply isn't secure enough, then get in touch with Clic Garage Doors today!
Get in touch today and we'll have you sorted in no time!